Dental Implant Restorations
Do you have gaps in your smile from missing teeth? Are you tired of dentures that slip when you eat, speak, or laugh? We suggest that you learn more about dental implants. This advanced method of tooth replacement is ideal for replacing single teeth and securing loose-fitting dentures. At Wesley Chapel Dentistry, Dr. Kalarickal restores dental implants to give patients attractive, natural-looking, and secure smiles.
Dental Implants: Structure & Use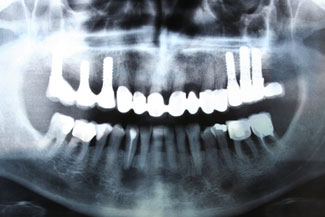 A dental implant replaces both the root of the tooth (the part below the gum line) and the crown (the part above the gum line). An oral surgeon inserts the tiny, surgical-grade titanium implant posts in the jawbone to create a secure foundation for custom dental restorations. Dr. Kalarickal designs replacement teeth and mounts them atop the posts following the healing period. Dental implants are strong, long lasting, and the only tooth replacement method that preserves jawbone mass.
Successfully Restoring Smiles
We use dental implants to replace one or more missing teeth scattered throughout a smile and to anchor dentures, partials, and bridges. Our implant dentistry team will ensure that you receive the care you need during each step of the implant process. Dr. Kalarickal works with trusted surgeons and implant specialists. He manages each patient's individual case for a positive, successful outcome.
Implants have a high success rate, up to 98%. They last most patients a lifetime with proper care at home and regular visits to our Wesley Chapel office for checkups and cleanings.
Call our Wesley Chapel, FL dental office today to schedule your appointment with Dr. Kalarickal. Wesley Chapel Dentistry serves Tampa, New Tampa, Zephyrhills, Lutz, and surrounding areas with customized dental care for life-long smiles.