VELscope Oral Cancer Screening
Protect Your Wellbeing by Being Prepared in Wesley Chapel
When asked to name common dental or oral health issues that patients face, many of us would probably list the most common culprits, such as cavities, gum disease, or unsightly stains on your enamel. But have you ever once stopped and wondered if you could be suffering from oral cancer? While we don't hear very much about this disease in our everyday lives, the numbers are staggering – one person dies from oral cancer every hour on average, and nearly half of those who have been diagnosed won't survive more than five years. This is because oral cancer often goes undiagnosed until it's progressed to the more advanced stages, which can sometimes only be treated with methods that sharply decrease the patient's quality of life.
Thankfully, Dr. Kalarickal and his team take the threat of oral cancer very seriously; that's why they've invested in VELscope! With this new, advanced technology, we can quickly and painlessly screen for any suspicious areas that may indicate the presence of oral cancer inside your mouth.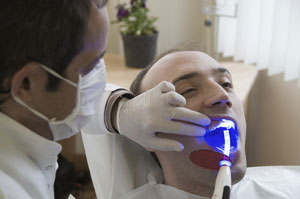 The process is simple – VELscope is a fluorescence-based system that detects abnormalities in your oral tissue. We'll simply use the special light to illuminate any of these areas; they'll appear very different from normal, non-diseased tissue, making them easy to spot. Paired with a traditional visual exam, our team will be able to more effectively discover oral cancer and ensure that you receive the necessary treatment as quickly as possible.
We recommend that all adults receive an annual oral cancer exam with VELscope at least once a year. Patients who smoke and/or drink on a regular basis are encouraged to attend more frequent evaluations since these actions can increase your chances of experiencing the disease. Don't worry – when oral cancer is caught early on, treatment has an 80 to 90% cure rate!
Call our Wesley Chapel, FL dental office today to schedule your appointment with Dr. Kalarickal. Wesley Chapel Dentistry serves Tampa, New Tampa, Zephyrhills, Lutz, and surrounding areas with customized dental care for life-long smiles.