Meet Dr. Zack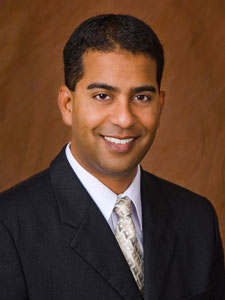 Zacharias J. Kalarickal, DDS has been creating beautiful smiles since 1995. He is a graduate of the University of South Florida and received his Doctorate of Dental Surgery Degree from Case Western Reserve University. Upon graduation, he completed an Advanced Education in General Dentistry Residency at the US Naval Dental Center in North Carolina. He then served as a Navy dentist for a few years prior to returning to the Tampa Bay area and entering private practice in 2002.
Dr. Kalarickal is a member of numerous professional organizations including the American Dental Association, Academy of General Dentistry, American Academy of Cosmetic Dentistry and others. By completing an average of 100 hours of continuing education every year and investing in modern comfortable health technology, Dr. Kalarickal has been successful in helping each of his patients achieve and maintain excellent oral health.
With his highly trained and friendly team, Dr. Kalarickal consistently offers innovations in healthcare and skillfully delivers quality dentistry in a thorough and soothing manner.
Comprehensive Care
Your smile consists of several components. Teeth, gums, muscles, joints, and bone structure must work together fluidly for comfortable, efficient function. With something is amiss with one element, the entire system suffers. Dr. Kalarickal addresses the whole smile to deliver lifelong oral health and a smile that enhances appearance and confidence. As our patient, you'll receive a level of service and care that we don't think you'll find anywhere else.
Meeting the Needs of Each Patient
Dr. Kalarickal treats patients of all ages and with all levels of oral health. He doctor applies a three-pronged approach to the practice of dentistry, which includes performing thorough evaluations and advanced diagnostics, determining exact diagnoses, and delivering personalized solutions. By gathering knowledge about each element of your smile, Dr. Kalarickal not only improves oral esthetics and function, he brings out the best in your smile.
Quality Treatments
The quality of our dental work is evident in a natural appearance, precise fit, and long-lasting durability. We use advanced tools and techniques and top-quality products and materials to exceed your expectations and change the way you feel about your smile. Dr. Zack isn't happy unless you are!
Call our Wesley Chapel, FL dental office today to schedule your appointment with Dr. Kalarickal. Wesley Chapel Dentistry serves Tampa, New Tampa, Zephyrhills, Lutz, and surrounding areas with customized dental care for life-long smiles.